Tablecross Inc. Post Press Release
Shinjuku, Tokyo: On July 18th, Tablecross Inc. launched "byFood.com," a food platform for foreign visitors to Japan. On the same day, we held a press release conference at INBOUND LEAGUE and hosted about 70 guests, including guests from the media, local governments, restaurants, and travel agencies.
Thank you to all of you who attended the press conference; we were very pleased to share our new platform with you.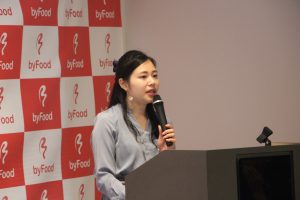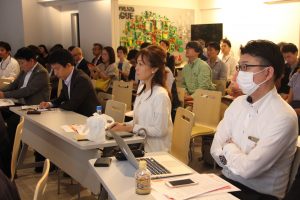 Following an introductory video about "byFood.com," Kaoru Joho (CEO) shared some of the difficulties that foreign visitors face when searching for food experiences in Japan, and introduced the ways that "byFood.com" resolves those common problems.
Tablecross's food experience platform, byFood, caters to the needs of foreign tourists.
The platform includes food experiences such as food tours, cooking classes, tastings, and dining experiences.
Visitors to Japan can enjoy special shows, interact with chefs, and discover local Japanese food culture, even if they are not able to speak Japanese.
In addition, byFood has an advanced filtering system that allows guests with food restrictions (like vegan, gluten-free, and halal), to find suitable food experiences.
To eliminate the language barrier, the platform allows foreign visitors to complete the entire transaction, from the search to the payment, in English.
In keeping with the mission of "Spreading Happiness Through Food," Tablecross Inc. also announced a reinvigorated Food for Happiness Project.
Now, not only does byFood donate to NPOs and NGOs, but hosts can also pledge a donation.
Building from the foundation of the Tablecross restaurant reservation application for Japanese users, Tablecross Inc. has been working on this new platform, focused on the inbound market, including dining experiences in addition to food tours and cooking classes.
As the number of visitors to Japan increases due to the 2020 Tokyo Olympics, Tablecross Inc. is making food experiences more accessible to foreign visitors and contributing to regional vitalization throughout Japan.
「Tokyo by Food」website↓
https://tokyobyfood.com/
■Tablecross Inc.
<establish>25/o6/2014
<capital>108,500,000yen(Includes capital reserve)(7/2018)
<description of business> Management of gourmet app"Tablecross" that can contribute to society
<location>Shinjuku MY Building 3F, Tomihisacho 16 – 15, Shinjuku-ku, Tokyo 162-0067
<representative>Kaoru Joho, CEO of Tablecross
<WEB>https://tablecross.com/